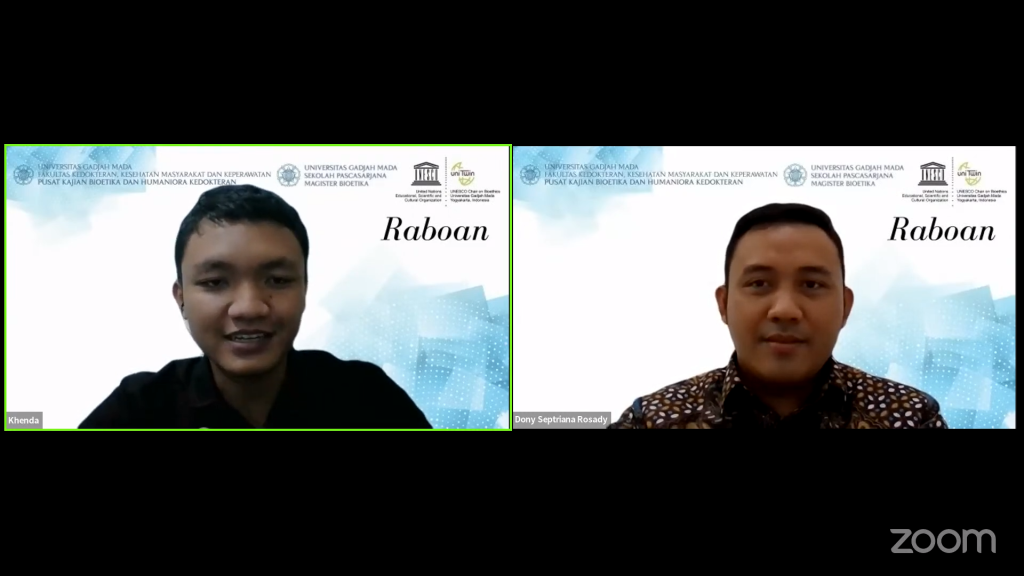 Wednesday (16/11) Center for Bioethics and Medical Humanities Faculty of Medicine Public Health and Nursing held a Raboan Discussion Forum. The virtual forum raised the topic Measuring the Future of Telemedicine in Indonesia Post COVID-19, presented by dr. Dony Septriana Rosady MH.Kes MBA M.AP M.Sc. Meanwhile, the moderator for the discussion was Nathan Agwin Khenda, Ftr.
Telemedicine refers to remote healthcare services provided by healthcare professionals using information and communication technology. The Ministry of Health's regulation on Telemedicine (Permenkes 20/2019) covers teleradiology, tele-electrocardiography, tele-ultrasonography, teleclinical consultations, and other telemedicine services as per advancements in science and technology. Research development with various public-private ownership characteristics, geographic locations, and service levels is necessary to strengthen telemedicine implementation. Regulatory guidance on clinical teleconsultation, the development of online PNPK (National Standardization of Health Facility), and strengthening health information management policies, including financing and digital literacy, are also necessary. Collaboration across academic, business, community, government, and media sectors is crucial for developing clinical teleconsultation.
During the COVID-19 pandemic, clinical teleconsultation has adhered to bioethical principles and ethical guidelines set by professional organizations. Respect for patient autonomy, non-maleficence, beneficence, and justice in providing easy access to all while ensuring the provision of face-to-face services for those in need have been maintained. The practice of teleconsultation during the pandemic is in line with existing regulations and does not violate medical ethics. Post-pandemic regulation review is necessary for the sustainable implementation of clinical teleconsultation.
Watch full video here