Center for Bioethics and Medical Humanities, Faculty of Medicine, Public Health, and Nursing Universitas Gadjah Mada (CBMH FK-KMK UGM) again held a Raboan Discussion Forum on Wednesday (2/11). The event which was held virtually raised the topic of Application of Virtue Ethics in Health Services for Persons with Disabilities Spinal Cord Injury, which was presented by Dr. dr. Maria Regina Rachmawati, Sp.KFR, M.Sc. Meanwhile, acting as a moderator is dr. Tiea Khatija.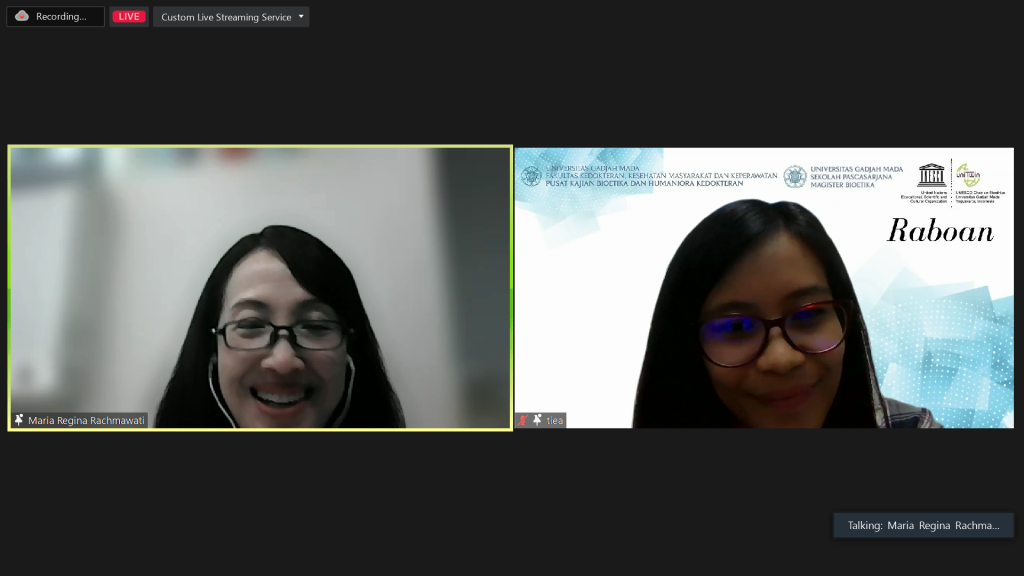 At the beginning of her presentation, Dr. Maria explained that disability is a decline in the function of the human body which can be categorized into three, namely mild, moderate and severe. Spinal cord injuries are included in the category of severe disability. Patients with spinal cord injuries are unable to carry out activities of daily living. They experience loss of sensory and autonomic motor function, resulting in dependence on other people or medical devices. In her research, Dr. Maria tries to find out the application of virtue ethical principles by doctors in health services to sufferers of spinal cord injuries. dr. Maria also saw whether the doctor's virtue character and service to Specialist Medula Injury patients followed the egalitarian concept. To find out this, Dr. Maria distributed questionnaires and interviewed doctors in the Jakarta, Bogor, Depok, Tangerang, Bekasi, and Banten areas.
The results of the study show that there are good virtue characteristics that are adhered to by doctors in serving people with spinal cord injuries, namely: love, gratitude, spiritualism, passion, justice, and kindness. However, these characters do not fulfill the egalitarian concept of justice and objectivity. Meanwhile, for patients with spinal cord injuries, three virtue characteristics are expected from doctors: prioritizing the patient's interests over personal interests, compassion and loyalty, and being trusted. This view needs to fulfill the egalitarian concept that patients are expected to be active, logical, and wise.
Based on the results of Dr. Maria's research, she recommended that there should be an increase in doctors' understanding of virtue character, which supports an egalitarian concept. Not only doctors, but patients with spinal cord injuries also need to receive education to support an egalitarian concept, namely being active, logical, and wise patients in long-term health services.
Watch full video here