The Center for Bioethics and Medical Humanities (CBMH FK-KMK UGM) held a Raboan Discussion Forum on Leadership in Academic Medicine on Wednesday (06/09). The event, which was held online, invited speakers Prof Chandramani Thuraisingham and Dr Sasikala Amirthalingam. The discussion was led by moderator Prof. Dra. Yayi Suryo Prabandari, M.Si., Ph.D.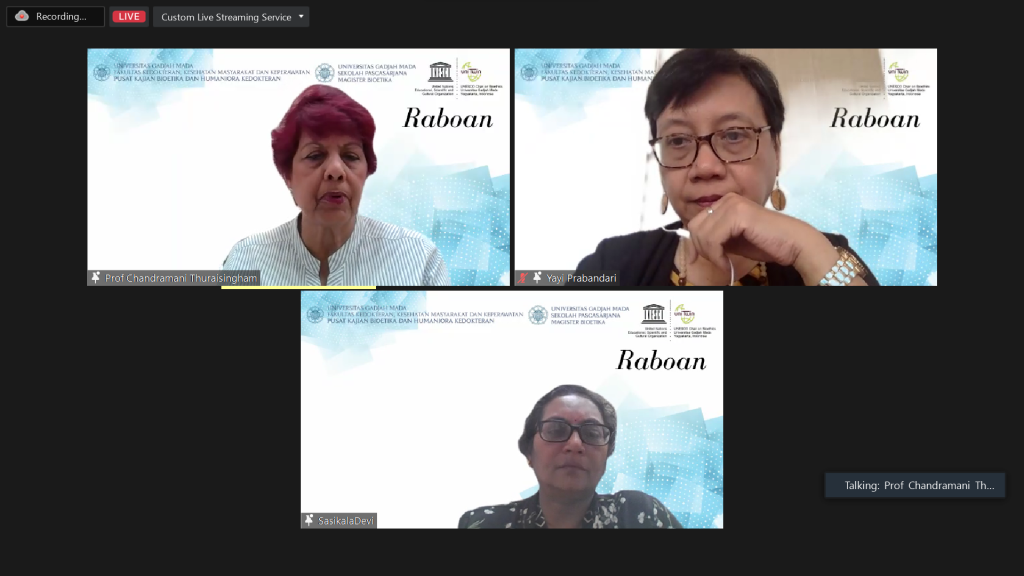 The presentation was divided into two sessions. The first session was by Prof. Chandramani titled Leadership as a Primary Care Physician. Prof. Chandramani emphasized that Leadership is important in medical school. Prof Chandramani explains that Leadership is not a talent anyone is born with. It is a skill one needs first to acquire and then hone further. 4 crucial points on ethical Leadership: 1) Ethical leaders have high standards for their team & set the same standards for themselves daily. 2) Ethical leaders would also do the job they ask someone to do. 3) Ethical Leaders hold equal respect for others & the team. 4) Ethical leaders are honest and straightforward in their communication.
The second session is by Dr. A Sasikala. Her presentation is titled Learning Leadership During Community Engagement Activities. She presented her community engagement project in Kampung Sebir. This project provided valuable experiential learning opportunities for the students, helping them develop essential Leadership and interpersonal skills such as communication skills, listening skills, delegating tasks and responsibilities, being transparent leader, creating a collaborative environment, teamwork, being empathetic, Having confidence, Firmly believing in their vision Developing mutual trust relationships, and openness to feedback.
Watch full video here